Driving a truck the size and volume of a tanker is challenging, and requires drivers to possess incredible skill and unmatched knowledge about their vehicle. Many of the materials drivers handle daily are dangerous, and drivers are responsible for their safe transportation.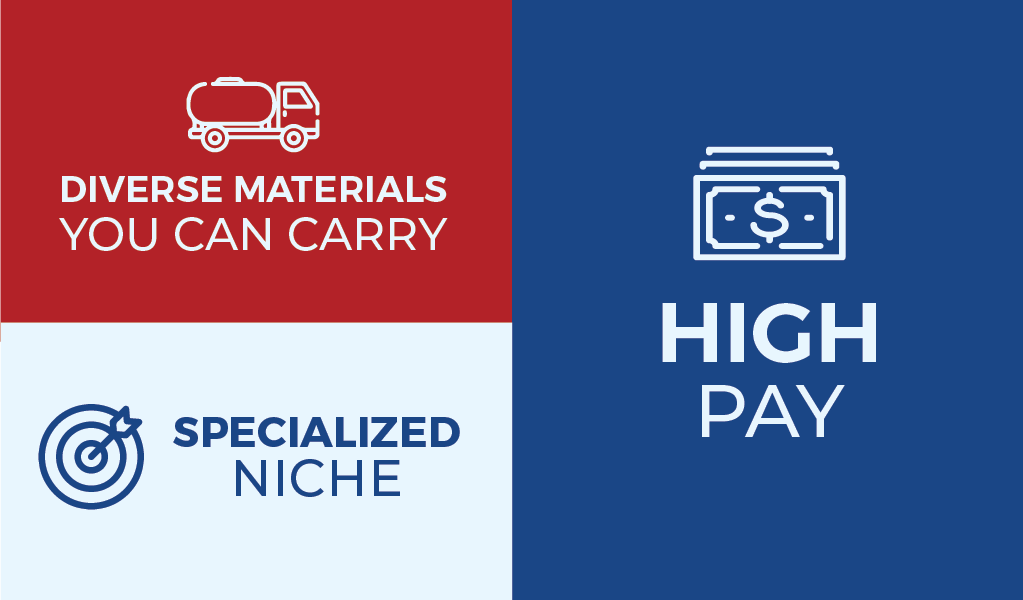 Tanker trucks can be pressurized or non-pressurized, insulated or not, or even vacuum sealed. With their large center of gravity and the precarious nature of transporting these liquids or gasses, tankers can be susceptible to rolling over, and taking an extended amount of time to completely stop.
Read further to learn more about what driving a tanker truck entails.
Daily Responsibilities and Operations
Tankers don't spend all their time on the road. Drivers typically begin their day loading their vehicles. Ideally, your loading can be completed in one stop, but it's common for drivers to have to take a few stops to fill their tank entirely.
Loading and unloading your truck is typically done so with a hose. Depending on the material you are working with and the amount you are hauling, it can take around 45 minutes to load your tank. Unloading your tank, however, takes just about 20 minutes.
While it is the responsibility of the driver to hook up the hoses and ensure proper safety precautions are taken, often the company you are transporting to/delivering from will load and unload the tanks themselves.
Before departure, drivers must be sure to conduct a pre-trip inspection, ensuring their vehicle is in dependable condition and will not leak any materials being hauled. On the road, safe driving must be prioritized. Tankers are difficult to operate and require special training along with specific endorsements.
Tanker Endorsements
To drive a tanker truck, you typically need an N and/or an X endorsement.
An N endorsement authorizes you to haul above 1,000 gallons of a liquid or a gas. Whereas an X endorsement acts as a combination of an N endorsement and a Hazmat endorsement (H), so drivers can safely carry potentially dangerous cargo, such as gasoline.
Along with the authorization to transport these materials, endorsement certification gives drivers the skills they need to operate tankers safely.
Stop time and Surge
The training you undergo when receiving your endorsement certificates should prepare you for common hazards as they occur. Two of the most notable difficulties to be aware of when it comes to driving a tanker are surge and stop time.
Surging is a risk that tankers are nearly always susceptible to. Most notable instances of surging, however, occur when a tank isn't fully loaded. The driver may be in between stops, or the tank simply may not be filled completely. Regardless, driving with a partially loaded tank is more difficult than doing so with a full tank.
The lighter tank offsets a driver's overall center of gravity, whereas the added weight of a full tank gives the driver some traction. The extra space in a partially loaded tanker causes the liquids in your truck to shift as you accelerate, slow, stop, or turn. The added motion that results is referred to as "surge".
Surging affects stop times and distance; if you're not careful, you may find your truck rolling several extra feet after your initial stop due to the materials inside of the tank rushing forward after braking.
What do Tanker Trucks Carry?
From products we consume, to substances like diesel fuel, tankers carry an array of liquids and gasses. If the material being hauled is considered hazardous, protective gear/clothing may be required for the driver. There are different types of tanker trucks which are intended to carry various materials.
Common types of tanker trucks are:
Oil, Gas, and CNG (Compressed Natural Gas)
Tanker trucks transport oil and natural gas to gas stations. Due to the potentially hazardous nature of gasoline and/or oil, the pressure in the tank is monitored and controlled. When transporting CNG the truck must also be pressurized and is usually kept around 3,000 PSI.
Chemicals
A chemical tanker is used to transport a variety of acidic, corrosive, or otherwise toxic materials from processing plants to industry consumers.
Agriculture
Agriculture trucks transport mainly liquids like bulk fertilizers, pesticides, herbicides, etc. from the supplier to the destination. After these materials arrive, they are combined with a water tank system to efficiently cover the ground wherever needed.
Beverage/Food-Grade
Food-grade tanker trucks are often composed of 304 stainless steel, which has been deemed suitable by the FDA as sanitary with proper and regular cleaning procedures, and does not transfer harmful substances to the food. Often food grade trucks haul milk, juices, alcohol, vegetables oils, vinegar, etc.
Water
Not only do water tanker trucks deliver drinkable water, but they are also used to deliver water to sites normally considered off-grid. They can deliver to construction sites, mine shafts, and even to forests for firefighting.
Often, tanker trucks tend to be compartmentalized. This compartmentalization allows for substances falling into the same category (i.e. fruit juices and milk) to be carried on the same truck if their mutual transportation will not be hazardous.
Is a Tanker Truck Driving Job Right for Me?
If you consider yourself a skilled driver and would enjoy additional CDL training to refine your abilities and receive proper endorsements, tanker truck driving may be an exciting specialization to pursue. It takes dedication and tact; with the proper CDL training, you can create a rewarding career for yourself as a tanker truck driver.
Read more truck driver job descriptions, or if you already have your CDL, find a truck driving job near you!